Automatic Digital Wrist Blood Pressure Monitor Sphygmomanometer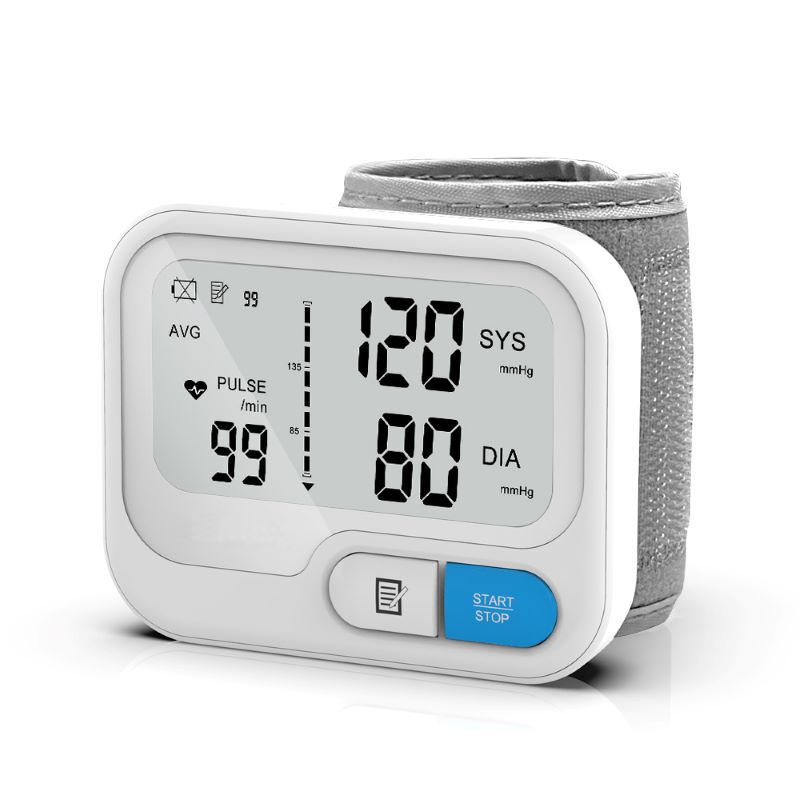 - Small and exquisite design.
- Clear LCD digital display.
- Can store 99 groups of measurement results for one person, display the average reading of the last three measurement results.
- Automatic compression and decompression.
- Blood pressure classification function, convenient The user judges whether the blood pressure value is normal.
- 2 display unit: kPa, mmHg.
- The product automatically enters the sleep mode within 1 minute after the measurement;=.
Description:
Name: Blood Pressure Gauge
Display segment type: liquid crystal display;
Measure non-invasive blood pressure in wrist measurement range: 0-280mmHg;
PR: 40-199 times/minute;
Accurate non-invasive blood pressure: ≤±3mmHg(±0.4kPa);
Public relations: ±5%;
Working voltage: 3V (AAA*2);
Low power parameters: 2.4V±0.1;
Display low power: <2.2V±0.1V power off;
Blood pressure test current: <500mA (working state without pump and value);
Shut-off current: <100μA;
Working conditions temperature: +5 degrees Celsius-40 degrees Celsius;
Humidity: 15%RH-80%RH;
Atmosphere: 86kPa-105kPa;
Transport and storage conditions temperature: -20 degrees Celsius ± 55 degrees Celsius;
Humidity: ≤95%RH;
Atmosphere: 50kPa-105kPa;
Product size: 79*62.6*62.2mm;
Gross weight: about 103g (excluding batteries);
Packing size: 80*80*90mm;
Net weight: about 137g (excluding batteries);
Wristband range: 13.5cm-19.5cm;
Packing list:
1 x Manual
1 x Product
1 x Packing bag
Note: Due to different personal displays, light and contrast differences, there may be slight color difference between the picture and the real object.
Additional Information
Country:
BlissUnited States(14024)
Shipping conditions:
Buyer pays shipping expenses, International shipping
Payment methods:
Bank Transfer, Cheque
Starting Bid:
0.99
THB
Auction started:
Jul 08, 2022 - 06:00
Auction ends:
Dec 06, 2023 - 00:20
Auction ID:
176518
Item category:
All
>
Personal Health Protection
>
Health tools