2.8W Solar Fountain Pump Water Pump Floating Fountain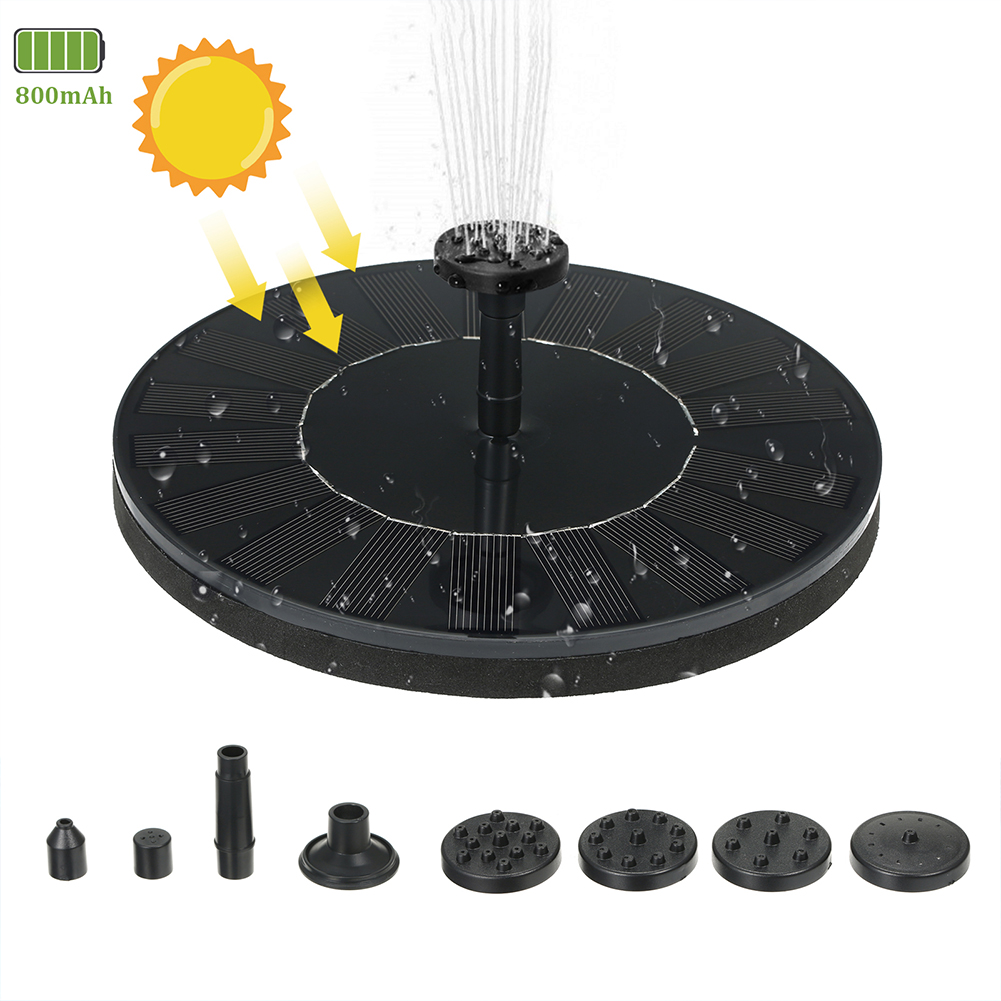 2.8W high-power solar panels, water more stable, 1.5W water pump compared to most of the market using 1.0W water pump flow more, higher spray height.
1200A battery, can make up for the lack of solar panel power supply in the case of weak sunlight, resulting in a lack of water spray height and poor reviews (currently on the market of such products are basically because the solar panel does not function enough in low light and generated).
Description:
Item type:Solar water pump
Pump voltage: 9V
Pump power: 1.5W
Maximum flow: 190L/H
Maximum lift: 150cm
Maximum spray height: 65cm
Solar panel voltage: 10V
Solar panel power: 2.8W
Solar panel size: Ø180mm (monocrystalline silicon tandem type)
Colour: Black
Battery capacity: 1200 mA
Built-in high-performance rechargeable lithium battery (the longest working time is about 5 hours in a fully charged state without sunlight) Service life:20000Hours or more
Working hours: 8:00A.M.-8:00P.M.
Size: 190*190*50mm Weight: 360g
1200 amp battery in the absence of sunlight state will continue to supply power to the pump to ensure that the fountain stable birth and maintain the height, until the battery only 15% of the electricity left will stop working.
Water shortage protection system, in the water below 1.5CM, the water pump through the sensor signal will automatically stop spraying water, start the pump protection function, but the solar panel will continue to receive energy to charge the battery, and so the water level is higher than 1.5CM, the fountain function will restart.
High-intensity cycle charging function, the market with battery solar fountain, cycle charging times in about 500 times, the product can reach about 1000 times. 6: the use of solar panels imported from Taiwan, compared to domestic solar panels, the proportion of light energy conversion of electrical energy can be increased by more than 25%.
Packing list:
Solar water pump × 1, nozzle × 6, nozzle base × 1, adapter × 1, instruction manual × 1
Note: due to different personal displays, light and contrast differences, there may be slight color difference between the picture and the real object.
Additional Information
Country:
BlissUnited States(14024)
Shipping conditions:
Buyer pays shipping expenses, International shipping
Payment methods:
Bank Transfer, Cheque
Starting Bid:
0.99
THB
Auction started:
Jul 08, 2022 - 06:00
Auction ends:
Dec 06, 2023 - 00:20
Auction ID:
165626
Item category:
All
>
Home Garden & Tools
>
Garden & Lawn
>
Watering & Irrigation