[US Direct] Sangdo Generation 2 300ml Essential Oil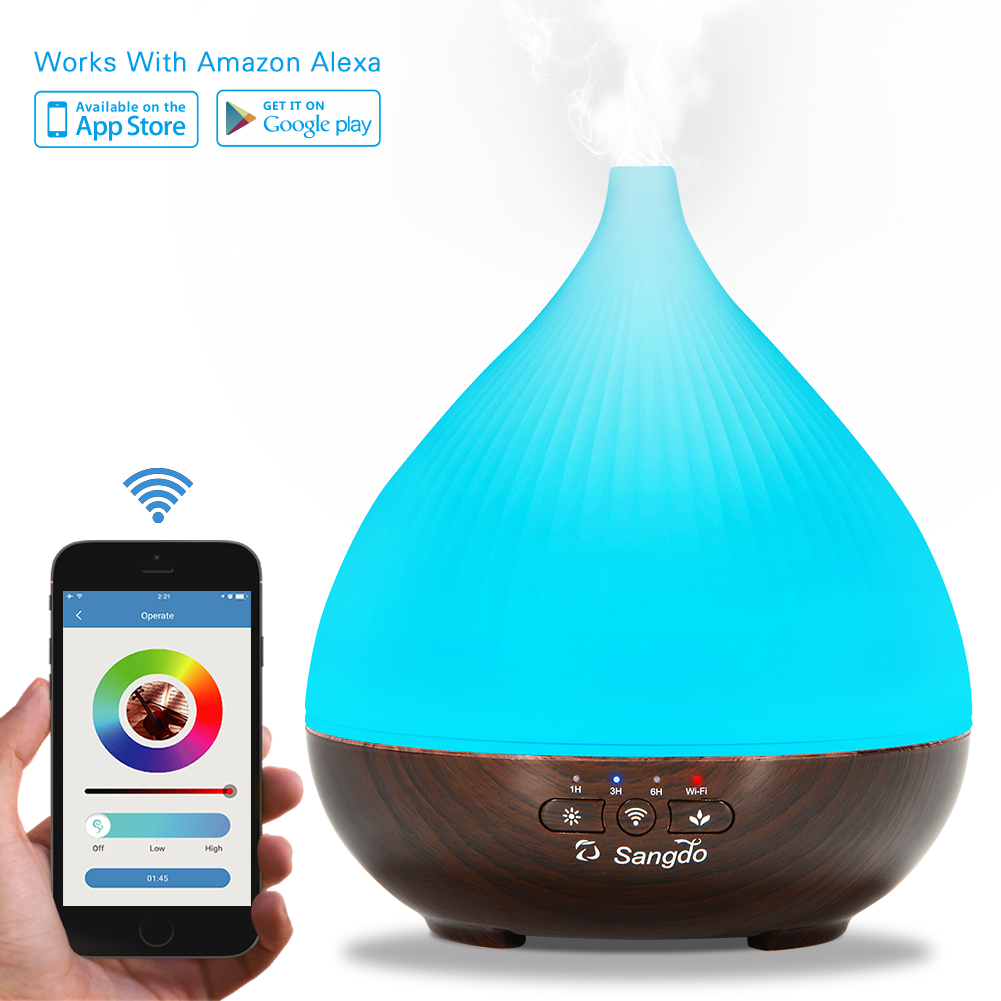 LATEST GENERATION 2 Sangdo AROMA DIFFUSER: Works with Amazon Echo/Echo/Tap can not only powering on/off but also changing the light colors conveniently by sound. While most generation 1 can only use voice to turn on / off the aroma diffusers.
APP CONTROL: Download our specially developed and upgraded App named 'Umist plus' which is compatible with Android system and IOS on your smart-phone to control the Sangdo aroma diffuser remotely such as powering on / off, changing the light colors, adjusting the mist quantity, setting timer working hours.
AMBIENT NIGHT LIGHT: LED ambient light creates a wonderful ambiance with 7 alternative colors for relaxation by fixing one color or making 7 colors constantly cycle through. More, each color can choose from dim and bright. More our generation 2 can also change the light color among millions of color through our App.
SILENT OPERATION: Latest ultrasonic technology makes this humidifier works quietly. With drops of essential oil it can infuses a lovely fragrance in the room. Perfectly use it in the nursery, office, yoga studio or in any room about .
100% SAFE INSURANCE: This aroma diffuser can continuously work about 6-9 hours with 300ml water in. For safety, it will auto shut off before the water running out.Setting the timer on App or on the button.
Aromatherapy is the treatment or prevention of disease by use of essential oil which is proved by science.
Use out aroma diffuser with drops of essential oil in the water tank.
It has therapeutic effect of pain and anxiety reduction, enhancement of energy and short-term memory, relaxation,
hair loss prevention, and reduction of eczema-induced itching.
Aerial diffusion: for environmental fragrancing or aerial disinfection.
Topical applications: for general massage, baths, compresses, therapeutic skin care.
Specifications:
Advanced Ultrasonic Technology: 2.4MHZ
Working time: from 6-9 hours (depend on the mist quantity you choose).
Input power: AC100-240V 50/60HZ
Output voltage: DC 24V 650mA
Support Lack Water Protection
Total power: 10W
Room size: 11.95sq.yd - 35.87 sq.yd
Tank capacity: 300LM
LED quantity: 3 PCs
Material: ABS+PC+PP
Power plug: US
Item weight: 318g/11.22oz
Item diameter: 14cm/5.51in
Item height: 17cm / 6.69in
Package weight: 625g/22.05oz
Package size: 15.5 * 15.5* 23.5cm/6.1 * 6.1 * 9.25in (L*W*H)
Package list:
1 * Ultrasonic Humidifier
1 * Adapter
1 * Counting cup
1 * User Manual(English)
Additional Information
Country:
BlissUnited States(14024)
Shipping conditions:
Buyer pays shipping expenses, International shipping
Payment methods:
Bank Transfer, Cheque
Starting Bid:
0.99
THB
Auction started:
Jul 08, 2022 - 05:57
Auction ends:
Dec 06, 2023 - 00:20
Auction ID:
158745
Item category:
All
>
Local Warehouse
>
US Local Warehouse
>
Home Supplies