Skin Care Mole Tattoo Freckle Removal Pen LCD Sweep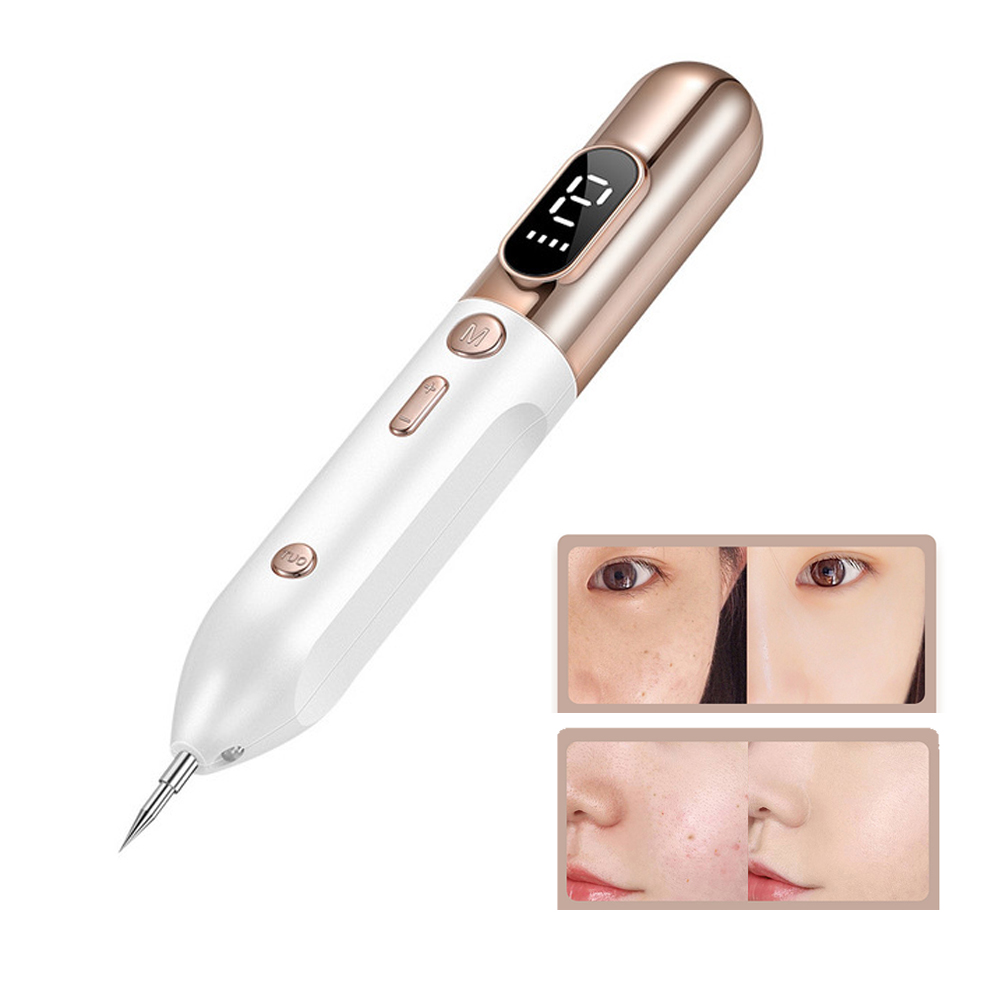 Adopts high technology, helps you to remove variety skin tags, spots, freckle, mole, wart etc effectively and instantly without hurt and bleeding.
Easy and Safe to use. With this beauty device, you will improve your skin and change your life!
High-frequency voltage, no current feeling, no pain feeling.
9 different levels of power can be adjust, simple and reliable.
Without electric shock, without hurting, without blooding
High capacity battery, It can work more than 5 hours after charging.
Description:
Item Name:Spot Removal Pen
Functions:
1.Remove moles
2.Remove wart(verruca)
3.Remove freckle,spot,freck
4.Remove fleshy nevus
4.Remove tattoo
Material:ABS+Steel needle
Battery Capacity:1200mAH
Output power:4W
Product Size:190*28*29mm
Product Weight:280g
Package Size: 18*10.5*6CM
Packing list:
1*Spot Removal Pen
1*Big Needle
5*Small Needle
1*USB Cable
How to use:
1.Assemble the needle :Clean the needle and skin with alcohol; thread the coarse needle into the tip hole directly in clockwise, while for fine needle, insert it into the needle guard firstly and then thread the needle guard into the tip hole in clockwise.
2.Power button:Press""ON/OFF"" for 2s to switch on/off.The display screen shows the remaining power capacity, Power off automatically without any operation in 10mins
3.Spot Remove:Short press the power button to adjust the gear from 1-6,The green indicator is on when press the working button and hold it for poerating, hold the pen at a slight angle, gently sweep back and forth with a small strength, Carbonization can not stay in one place for a long time.release the working button for stopping working.
4.LED spotlight:When power on ,double click""ON/OFF"" to turn on/off the spotlight.
5.Charging:Use the power adapter by 5V/1A(prepared by customer) to connect the USB cable & wireless charging base,Put the pen charging connector on the charging base to charge ,the green indictor blink under normal charging and maintain green when fully charged (need 8 hours),don't charge the device during operation
Needle Installation:
1. The fine needle needs to be installed with the needle assorted.
2. The coarse needle can be installed directly.
Notes:
1.Before use the device on your own skin, please practice on pigskin until you are familiar with it.
2. According to your pain tolerance and the operating body location, consider applying topical numbing cream before the treatment.it is normal to sense a burning smell during the procedure.
3.Do not clean the affected area with strong alkaline washing or scrub, simple care is OK;During the recovery period (1-3 months),do not eat spicy food, keep a healthy lifestyle..
4.Please do not treat a large area (greater than 2-3cm) in a single session as large wound increases risk of infections and chance of bleeding.The darker region is recommended to be divided into four or five operations.
5.Do not scratch the scab with your hands when itching because of tender meat growth period, the scab will peel off itself about 20 to 30 days.
6.It's better to wear dry insuiating gloves during operating,
7.Please promptly remove the needle after use,clean and disinfect,then keep dry.
8.Do not wash the device in water.
9.Do not use it while charging,when out of service for long period,it should be stored in a dry and cold place and be charged once every three months for keep battery life.
10. Keep away from children, persons who don't know operation and pets.
11.The elderly,children,pregnant woman ,persons with heart problems and persons susceptible to scare must be cautious to use the device
Additional Information
Country:
BlissUnited States(14024)
Shipping conditions:
Buyer pays shipping expenses, International shipping
Payment methods:
Bank Transfer, Cheque
Starting Bid:
0.99
THB
Auction started:
Jul 08, 2022 - 05:53
Auction ends:
Dec 06, 2023 - 00:20
Auction ID:
114830
Item category:
All
>
Health & Beauty
>
Skin Care
>
Skin Care Tools